As an introduction to the Way Of Council and to the practices of deep listening, communication and facilitation, workshops and circles are offered for groups either forming or established, teambuilding and maintaining, businesses, partnerships and personal relationships.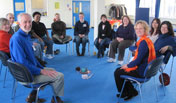 Love is the Medicine –
A council for Active LightWorks Charity Brighton
Way of Council is very effective from two people upward. Groups up to about 13 tend to work best with complex and intimate sharings. However, whatever size and nature of the group, councils can be adapted to each specific purpose and arrangement.
FEEDBACK
'The atmosphere at these meetings reminded me a little of present opening on Christmas day. People sitting around giving, while each of us was invited to open ourselves up and get a chance to really check out the person inside. This person had been boxed up under the tree for long enough and I felt that mixture of expectation, awkwardness, fear and exhilaration. From the circle I felt loving kindness and the reassurance that it doesn't matter so much what comes out, as much as how we respond to it in our hearts. I found the experience by turns delightful, scary, transformative, mysterious, embarrassing, something to be cherished... It felt like I had started to discover, with the help of every single person in the group, an ancient portal into a healthier way of living. Delicious stuff.'
L. Williams
'...thank-you for an inspiring set of WOC gatherings. I found the experience a very moving one. Something about pure listening and being listened to. So far from the usual round of "conversation" and "discussion". I thought the group was magnificent, it all ran so beautifully, I thought, for everyone. I felt very safe, and included, and I felt lovely things were happening all around. I am very grateful.'
Rev M. Gould
'...it's hard to put into words what the group has meant to me, but it is big! There's a warmth of community, a spirit of joyfulness & an opportunity to grow from the heart that has enriched my life & my soul. Thank you, what you do is very special and much needed in our world. Someone said something on a retreat last year about an atmosphere of 'kindly appreciation' allowing us to be who we really are, and this really resonates for me about my experience of WOC'

J. Wright –
'I really got a lot from the circles that I did attend...I feel like I learnt something core, about the value of the real. I will definitely be attending more circles in the Autumn. And possibly attending some drop in sessions too ...'
A. RenskeMann