WAY OF COUNCIL
WAY OF THE C I R C L E

Social components for actualising co-operative relations in partnerships of leadership,
trust, truth & transparency
Ancient and modern tools for restoring the village
Facilitation for groups and individuals
ONLINE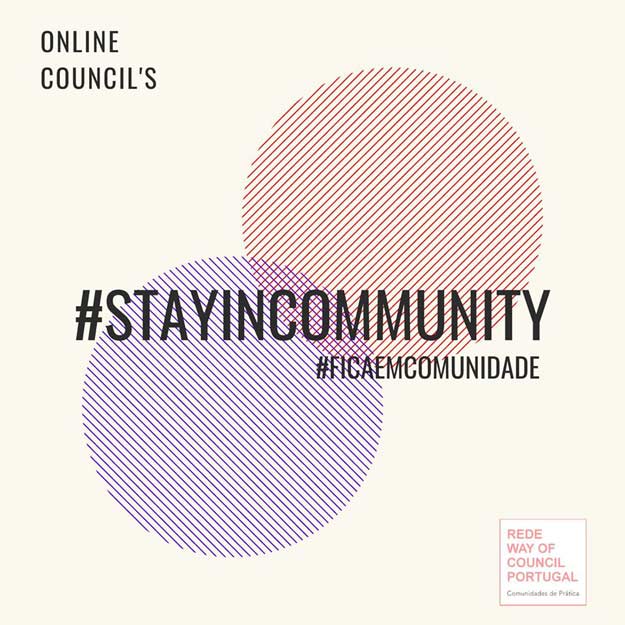 #stayincommunity initiative offers online Council sessions aimed to build a supportive network for individuals, groups and relationships — sharing wisdom, knowledge, stories, bringing connections and word-of-mouth alive.
I am offering free online council sessions bi-monthly. Next sessions –
Wednesdays 8/22 July @ 18.00-19.30
Advisory sessions
If you or your relationship, partnership or organisation are experiencing stress and communication challenges as result of the the current crisis and or isolations – (by donation for those with financial difficulties)
Please register via email, link here >>
–––––––––––––––––––––––––––––
Upcoming Trainings,
Retreats and Events
FEEDBACK
Intro Training – The Male Journey UK
Question:

1. What was the best thing about the training?

Responses:

MH: Difficult to pick out one thing as the whole package was really good. But probably the highlight was the way the group gelled together and the high levels of trust that enabled us to do some profound work together.
SL: The best thing about the training was the power of ...
–––––––––––––––––––––––––––
An area bounded by a single curved line every point of which is equally distant from the centre
A group of people bound together by common interests
COMMUNICATION
COMMUNION
COMMUNITY
'com' from the Latin word 'communis' meaning common
'unity' – 'unis' meaning one or oneness
Rob Dreaming
Way of Council Trainer,
Mentor, Wilderness Guide
& Consciousness Coach
• Trainings
• Workshops
• Conflict Exploration
• Vision & Dream-work
• Community & Teambuilding
• Relationship & Family councils
• International Group-work
Natural Foundations in
Circle Practice
2nd wave – new dates
Explore and learn how to facilitate council circles, online/offline
Part introduction to Circle/Council training
Experiential learning: tuition from 19 years leading council practice
Beginning Mar 10, 17, 24 & 31... 2021
8 hours over 4 weeks with peer and self-organised sessions between
Council is about relationships, co-creating an experience of connection, trust, teamwork, intimacy, empathy and transparency. This will be an opportunity for a new/old way to emerge, take shape, open the heart and practice the powerful yet simple forms of council, immediately applicable for professional and personal life. Our group over 4 weeks enables us to foster deeper relations in community, serve a steady and more grounded embodiment of council/circle practice
Relevant themes in our lives, Storytelling, Group dynamic, Creating the container, Guidelines & intentions, Talking/listening piece and much more, flexible to the threads set by what comes in the sharings, the needs and focus of those who attend.

4 x Wednesdays @ 2 hours per session
zoom 6-8pm GMT /PT time
Mar 10, 17, 24, 31st
All-in cost €75 – (sliding scale for those on low income)

To reserve a place, further information –
Contact Isabel here:


––––––––––––––––––––––––––––––––––––––––––––––––––––––––––––––––––––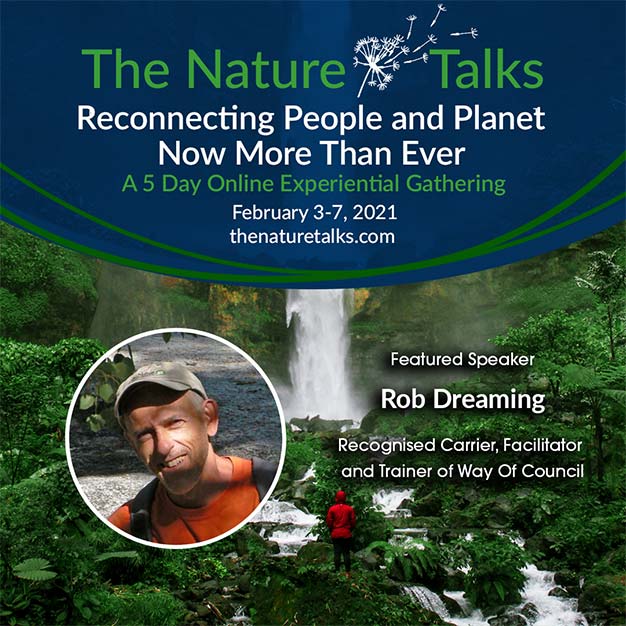 The Nature Talks: Reconnecting People and Planet - Now More Than Ever¯
A new experiential gathering to bring together a global community of like-minded and like-hearted people to share and learn from each other, and take our nature-based practice to the next level!

Click here to reserve your seat:
http://thenaturetalks.com/rob

Feb 3-7th
––––––––––––––––––––––––––––––––––––––––––––––––––––––––––––––––––––
Outdoor Nature-based
Introduction Council Training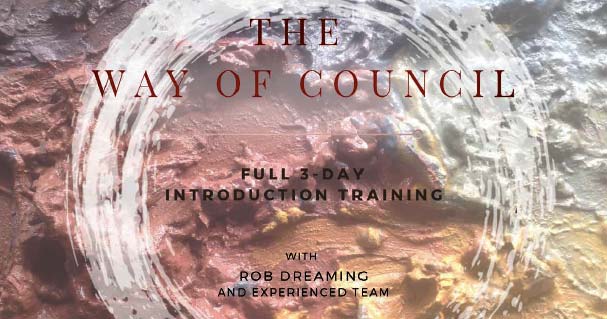 PORTUGAL
3-day outdoor Council Training
with Rob Dreaming and team
June 11 -13th
Alentejo – TBA
(email for details)
________________________________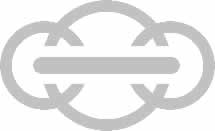 The Ball-Catch Fast
– Call for Guides 2021
"As long as you catch what you have thrown yourself,
it´s all skill and gain you can do without -;
only when of a sudden, you become the catcher of a ball the eternal co-player
threw towards your center,
an accurate and skilful trajectory in one of these arches
of God´s vast bridge-building:
only then is ability to catch an acquirement -
not yours; but the world's…"
(Excerpt from Rilke)
The Ball-Catch is a fast for listening, looking and learning with the Earth
in attempt to "catch the ball of the eternal co-player".
This is an invitation to participate in and as a group of trained Vision-fast
guides from many nations/continents around the globe, in collaboration of a
part online, part nature-based fast, each being in our respective locations over
a period of several days, to simultaneously act as a global net, an 'Earthlink'
with a shared purpose.